Grande Prairie is a vibrant regional hub with something for everyone, and that alone is why you should explore it yourself! Whether you've been in Grande Prairie for years, or are new to the area, we would love to show you what Grande Prairie has to offer; the growing communities, family oriented events and locations, and all the fun to be had. Live where you love!
LIFESTYLE. COMMUNITY. RELOCATION.
"You might not expect to find countless opportunities in a city with a population just over 69,000; however, Grande Prairie offers an intriguing mix of small city community and big city benefits. The city's advantage in attracting businesses, jobs, and people comes from its agricultural industry, strategic location, and diverse wealth of natural resources—including oil, natural gas, coal, and lumber.
As the largest commercial centre north of Edmonton, Grande Prairie draws people from all over the world to work and live, as well as serves as a hub to outlying areas. The city serves residents from northeastern British Columbia and northwestern Alberta to as far away as the Yukon and Northwest Territories creating a total trade area of over 288,000 people. The city's impressive draw from the surrounding area allows residents and visitors alike to enjoy a wide variety of shopping and recreation.
The abundance of jobs and Grande Prairie's status as the Most Entrepreneurial Community in Canada for three consecutive years has made it the perfect place for young people to start their careers and families. Grande Prairie is one of the youngest cities in Canada, boasting more children entering kindergarten than adults heading into retirement. To allow this population to thrive, the city has developed a wide range of activities and amenities for residents of all ages, from children to the elderly.
Grande Prairie is a four-season playground with so much, both indoors and outdoors, to entertain visitors, newcomers, and long term-residents. Whether you like adventure, learning, or relaxation Grande Prairie has something for everyone.
In Grande Prairie it's easy to get out and get active: you can walk the trails in Muskoseepi Park, play a round of golf at one of the local courses, or even surf at the state of the art Eastlink Centre. The city also has a number of parks and spectacular green spaces for outdoor enjoyment right in the city. In the foothills just south of Grande Prairie you can find year-round entertainment and great camping opportunities.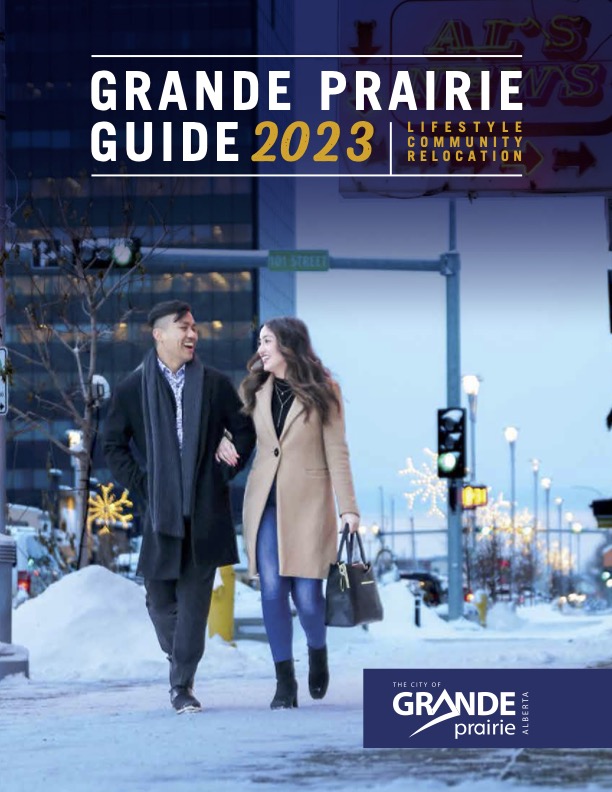 If you're a fan of sports you can cheer on the Grande Prairie Storm at an AJHL game or catch one of the major local, national, or international sporting events that Grande Prairie has gained a reputation for hosting. Recent events include: the 2015 Tour of Alberta, the 2015 Canada Cup of Curling and the 2016 Scotties Tournament of Hearts, 2018 Alberta Summer Games and a Pinty's Grand Slam of Curling event in 2020
Lovers of art and culture will have no trouble finding entertainment in the city. Revolution Place hosts world-class acts like Rihanna, Keith Urban, and Elton John. The Grande Prairie Live Theatre regularly showcases local talent and produces plays, concerts, lm festivals, and other events. Those looking for inspiration can visit the Art Gallery of Grande Prairie, which houses the largest public art collection in the region. For the hands on experience, the Centre for Creative Arts offers a range of classes to learn new skills.
With something for everyone, Grande Prairie is the perfect place start your family, or set out on your own.  Not only is the city a great place to live and work, but it is a place where you can thrive."